The Famous Company has an ever-growing number of employees. They are tops in their field. In fact, they are often the only ones in their field. Here are the employees we know about now:
Patrick Murphy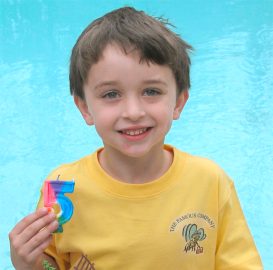 No one embodies The Famous Company more than Patrick Murphy (pictured at right with his employee number).
He knows just about everything about The Famous Company. Often, out of the blue he announces yet another product, service or employee that was previously unknown to the world at large.
Although he is vital to The Famous Company, he is not the boss. When asked about his title, he replied "I work there".
His friend Patrick
Patrick Murphy and his friend Patrick work together in the lab. They appear to be best friends.
Googoo Gaga
He is the boss. Unfortunately, he is stinky. He doesn't take a bath or a shower.
? (unnamed)
This is Patrick Murphy's nemesis. His name is unknown at this time. He sticks his tongue out at Patrick, when he sees Patrick's car during the drive to work. Patrick gets back by throwing nails at his ladder. He keeps his job because he's friends with Googoo Gaga.
Other key employees
The second Patrick (besides Patrick Murphy and his friend Patrick), the third Patrick, Ben Adryl, and Tooth Paste.
Jim Hawkins
Jim Hawkins used to work at Famous Company. Patrick (Murphy) had to fire him. He didn't want to. But Jim wasn't making Bug-Killing Stuff right. Patrick told him how to make it, but Jim didn't listen. It tasted like lemonade. The second time it was raspberry. Finally, the third time Patrick had to fire him.
But they are still friends. On weekends, Patrick goes over to his house to play.

2001 - Age 4