Company profile
The Famous Company is active in a number of areas:
Facilities
Our high-tech building is at an unspecified location, at the base of a major volcano. There is a wall in back to deflect the lava.
The whole building sinks underground in case of a tornado. That way we don't have to go in a storm shelter or anything, and we can keep working.
How to reach us
Telephone

407-354-0199. Don't call between 3 and 5 pm EST, since we're napping.

Electronic mail
Recognition
The Famous Company has recently been listed in a few Internet directories. We would like to thank the following companies for their recognition:
Open Directory Project (dmoz)
Kids Net Australia - Non-profit, volunteer-operated search engine for kids. Sites listed are "fun, educational, and child safe."
CoolCraftSites - "The cool site to find links to crafts and family-related information"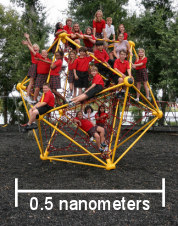 FLASH! Famous Company scientists have just discovered the mysterious element 119, Unbelieveium. This exclusive photo of the nucleus shows how the subatomic particles are arranged.